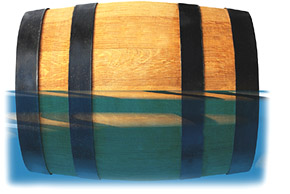 Hello:
Is there a service that can repair leaking oak wine barrels?  I had used mine for many years and did not do it for a while and now the barrel leaks when I try to put fluid into it. 
Thanx,
Steve
———-
Good Afternoon Steve,
There is no repair service that we know of for individual wine barrels, but here are a couple of things you can try that might get your wine barrel back into service.
Keep adding water to the barrel until the wood has had time to swell back up. This could take a couple of days if not a week. If this fails, try submerging the barrel in a bath of water while also keeping the barrel full of water. Do this for several days. Then let the outside dry out for a couple of days and see if the barrel starts to leak again.
If these ideas do not work, you have probably lost the barrel, but I'm guessing this is going to solve your problem.
Another One Of My Wine Making Tips:
Once a barrel is used you should always keep it full of liquid, whether it be with wine or water. If with water, also add Sodium Metabisulfite and Citric Acid to keep it from spoiling. You will also need to replenish the Sodium Metabisulfite every 6 months.
You may want to take a look at the Directions: Barrel Sterilizing Kit that is listed on our website for dosage and more detailed homemade wine instructions on using a wine barrel.
Happy Wine Making,
Customer Service
———————————————————————————————————
Ed Kraus is a 3rd generation home brewer/winemaker and has been an owner of E. C. Kraus since 1999. He has been helping individuals make better wine and beer for over 25 years.