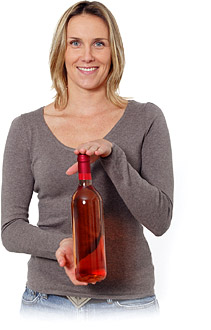 Dear Kraus:
I am new at this wine making process. I am in the last stages and decided to take a small taste test even though I still have 2 or 3 days left in the last stage. It is terrible! Can the wine get better in that short period of time or is it to far gone and will not come out good?
Please Help, Gwen
—–
Hello Gwen,
It is completely normal for a wine to be harsh at bottling time. Even though the wine is about to go into bottles it does not mean that it is done becoming wine.
The wine will continue to evolve through aging or maturation. This simply means it will slowly change over time–in a good way– while it is in the wine bottle. Organic changes will slowly occur over the course of the next few months that will round off the harsh corners of the wine.
You can think of wine as a living thing. Even though it is done fermenting, clearing and in the bottle, it is still going through changes. Each wine ages differently. So how long your wine will take to become its best can only be a guess, but it is safe to say that after aging for 3-6 months you will notice a remarkable improvement.  You may notice even marginal improvements up to 3 years, depending on the type of wine.
Best Wishes,
Customer Service at Adventures in Homebrewing
———————————————————————————————————
Ed Kraus is a 3rd generation home brewer/winemaker and has been an owner of E. C. Kraus since 1999. He has been helping individuals make better wine and beer for over 25 years.