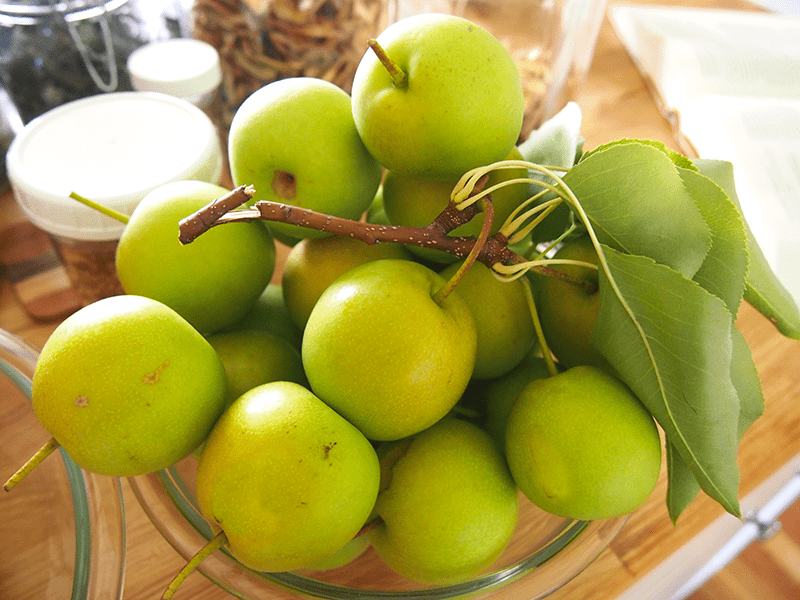 I have tried several times making wine from pears and always end up with a wine that tastes like weak moonshine. It has a smooth taste but not much flavor. I had a friend make some homemade pear wine as well and his turned out the same way. We have come to the conclusion that there is probably sugar locked into the fruit that is being released during the fermentation. My question is do you think our conclusion is correct and if so how can I go about figuring how much sugar to add to the fermentation. I think these pears will make a very fine wine if I can just figure out the recipe.
Jeff L — PA
—–
Hello Jeff,
In general, pears do not have a lot of flavor relative to other fruits. Think of the raspberries used to make a raspberry wine. When you taste a raspberry you know it. They are bursting with flavor.
Pears on the other hand are not bursting with flavor. When you bite into a pear you can tell it's a pear. You can taste its character, but it's nothing explosive like a strawberry, blueberry or even peach. Put the pear flavor up against the tongue-numbing effects of alcohol – such as the situation of a homemade pear wine – and you have something that tastes just like you described, weak moonshine.
Here are some tips for making homemade pear wine at home. These are some ideas for getting more pear flavor into the wine when using fresh pears.
Tip #1 For Making Homemade Pear Wine
One trick I have found to work well when making pear wine is to let the pears get as ripe as possible. Let the pears get as soft as you can without letting them turn to rot. If some pears are turning quicker than others, you can put them in a bath of sulfite solution, whole, until the other pears are ready. This will stop the pears from rotting any further.
Allowing the pears to become as ripe as possible will go a long way towards getting you a homemade pear wine with more pear character. When pears are early they taste closer to an apple. As they develop, the flavor that makes a pear, a pear, starts to become more pronounced.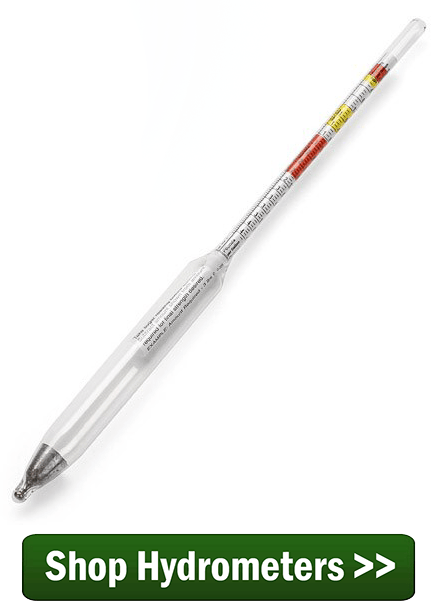 Tip #2 For Making Homemade Pear Wine
Don't drive the alcohol level of your pear wine up too high. Try to keep it around 10% to 12%. This can be done with the aid of a hydrometer. Use the potential alcohol scale on the hydrometer. As you add more sugar, the wine must will rise on the potential alcohol scale. Having the alcohol too high will give the pear wine a watery impression. This is because the high alcohol level is numbing your tongue to the flavors that are actually there.
Tip #3 For Making Homemade Pear Wine
Going back directly to your question, if you are using chopped fresh pears for making wine, the sugars in the pears should be release during the fermentation. The enzymes produced by the wine yeast will break down the pear pulp, releasing the sugars and the flavors. If you are not using an actual wine yeast, the correct enzymes are not being produced to break the pear pulp down.
Use wine yeast only. For pear wine we recommend Lalvin EC-1118 wine yeast. In addition, also be sure to add pectic enzyme. This will help to break down the fruit fiber, as well. Pectic enzyme is important in helping to get more flavor from the fruit.
Try mashing up the pears a bit. Once they have been cubed, you can use something like a cleaned and sanitized 2 x 4 stud to crush them. You are not looking for apple sauce consistency. You just want the fiber structure of the pulp to be disrupted some. This will allow the enzymes to break down the fruit fiber more quickly. By getting to the fruit fiber more quickly, you are getting both more flavor and more sugar from the pears.
By employing these tips you will be able to make a better homemade pear wine, one that actually tastes like pear. If you are still not sure what to go from here, you may want to take a look our pear wine recipe. This recipe makes 5 gallons of pear wine. It's an easy recipe, straight-forward recipe that should help you out.
Happy Winemaking,
Ed Kraus
—–
Ed Kraus is a 3rd generation home brewer/winemaker and has been an owner of E. C. Kraus since 1999. He has been helping individuals make better wine and beer for over 25 years.