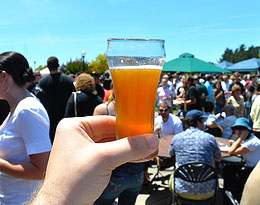 Homebrew festivals are quickly becoming a popular way to share the art of homebrewing with others. There are several possible formats. Some festivals just ask brewers to donate the beer, while others require a small fee to participate. Some homebrew festivals raise money for good causes, and many include a competition where the winning brewers can earn prizes, exposure, or even the opportunity to brew their winning beer with a professional.
But the thrill of the festivals themselves are usually motivation enough for me to participate. Here are five of the reasons why I take part in homebrewing festivals every chance I get:
Because they're fun! What's better than getting together with a bunch of other beer lovers and sharing some brews?! I'll usually bring a friend along to help me serve so we can take turns trying other people's beers. You'll also get to enjoy some good people-watching. (Be prepared for a lot of beards!)
Great networking – Homebrew festivals are ideal for meeting people with interests similar to your own. Be open, be friendly. Who knows — you could meet a potential collaborator — or the business partner for that brewery you've always wanted to start!
Get feedback on your brews – Homebrew festivals are the perfect opportunity to get honest, constructive feedback on your beer. You'll soon figure out which of your brews are crowd pleasers and which are not. When I serve my beer brewed with dandelion and nettle leaf at a festival later this month, I should learn a thing or two about what people think about my off-the-wall creation.
Find inspiration – At homebrew festivals, you'll get the chance to try lots of different kinds of beers. This is a great occasion for figuring out what you want to brew next. Loved that guy's Double IPA? Maybe it's time to brew your own. Enjoyed the Wyeast 3068 in that other brewer's hefeweizen? Now you know what you should use in that wiessbier you were planning on brewing.
Try unusual beers – A lot of the beers you'll try at homebrew festivals will be unlike anything you can find at the supermarket. Homebrewers are an extremely creative bunch and will pull out their best to try to win the crowd. Whiskey fennel ale? Beer brewed with beets? Homebrew festivals may be the only chance you'll get to try crazy concoctions like these.
Yes, you'll probably give away a fair amount of beer at a homebrew festival, but isn't sharing your creation what it's all about? Trust me, there's nothing quite like passing your homebrew across the table to an eager beer fan, watching their face light up as they sip your brew, and answering them when they ask, "You made that yourself??"
Not sure how to find a homebrew festival in your area? It's easy. Just go to Google and type in "homebrew festival" (in the quotes, followed by your nearest city, or maybe even your state. Example: "homebrew festival" kansas city
Have you ever participated in a homebrew festival? How did it go?
——————————————————————————————————-
David Ackley is a beer writer, brewer, and self-described "craft beer crusader." He holds a General Certificate in Brewing from the Institute of Brewing and Distilling and is founder of the Local Beer Blog.