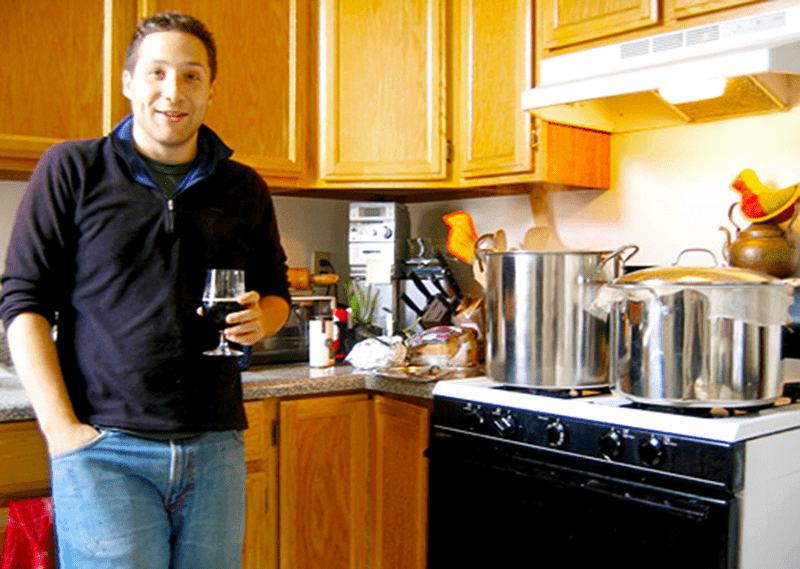 Are you getting ready to brew your first batch of beer? While the idea of home brewing may be intimidating, don't let it keep you from making taking that first step. Here are 10 home brewing tips for beginners to help get you through that first brew:
Relax, don't worry have a homebrew – Charlie Papazian's mantra is a good place to start. Always remember that you're doing this for fun. Don't let little mishaps get you down – they will happen – but it's all part of the experience. Be prepared to laugh it off when things don't go right and don't let it throw you off your game.
Focus on the clean – Good sanitation is critical to brewing good beer. If there's anything you should put a little extra time and effort into, it's making sure you have a clean, sanitary environment for your beer.
Don't cut corners – With the demands of modern life, sometimes it's hard to find a block of time for home brewing. That said, don't try to save a few minutes by cutting corners, especially on the cleaning and sanitation front. It's worth repeating the importance of cleaning and sanitation – the last thing you want to do is dump a batch of infected beer. That will be a waste of time… and money!
Brew with a friend – Of all the home brewing tips for beginners I've seen, this one is my favorite. An extra pair of hands can make some tasks much easier, especially bottling. Plus it's more fun! Crack open a beer with a friend or two and learn how to make beer together. That's how the home brewing revolution began in the first place… one friend at a time.
Avoid multitasking – Once you get a few brews under your belt, you might be able to handle multiple tasks at once. Of all the home brewing tips for beginners, this one is the most subtle, but focus on one task at a time. When you're cleaning, just clean. This will help keep you from getting distracted and avoid potential mishaps like boil-overs.
Save beer recipe formulation for later – While it's tempting to build your own beer recipes early on, consider brewing a few established beer recipes first. There are plenty of homebrewing books out there with solid beer recipes. Once you get your process down, you can branch out and start to develop a sense of what different ingredients bring to different beer styles.
Pay attention to fermentation temperature – Don't stress out too much over fermentation temperature for your first batch, but do keep in mind that it can make a big difference in the flavor of your homebrew. Take a look at the recommended fermentation temperature for whatever yeast strain you're using and aim for keeping your fermenter smack in the middle of the range for the duration of the fermentation process.
Take good notes – In the long run this is probably the most valuable home brewing tip for a beginner. If you see yourself brewing long term, make a habit early on of taking good notes for each of your brews. This will make it much easier to remember good recipes and to identify possible problems that might occur in your process.
Share your beer with friends – One of the best ways to get feedback on your homebrew is to share it with friends, especially if they're homebrewers or craft beer geeks. Take their advice with a grain of salt and don't be offended if they don't like what you brewed – everyone has different tastes!
There you have it, 10 home brewing tips for beginners. What other advice would you offer the first time homebrewer?
—–
David Ackley is a beer writer, brewer, and self-described "craft beer crusader." He holds a General Certificate in Brewing from the Institute of Brewing and Distilling and is founder of the Local Beer Blog.