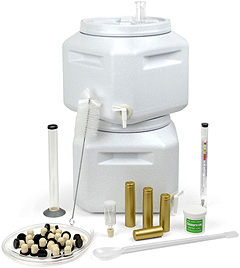 When making homemade wine equipment is important. Without having the proper equipment, not only will making the wine be more difficult, but it can even compromise the quality of your wine.
Fortunately, the list of wine making equipment that you really should have is not all that long. You'll need a couple of containers or plastic fermenters that you can be fitted with air-locks for fermenting the wine, some vinyl hose for transferring the wine from one container to the next, a stirring spoon of some kind to mix everything up, and most importantly, a gravity hydrometer to track the progress of your fermentation and to determine when and if the fermentation is complete.
Of course, there are other little gadgets, doohickeys and various other wine making materials that you may decide that you want to get later on, but for now these are the essential aliments that you will need to get you started.
All these items can be purchased individually on our website, or you can purchase them all together at a reduced price. We offer all these items together as a wine making starter equipment kit. It includes all the items listed above: the fermenters with air-locks, hose, stirring spoon and the hydrometer.
In addition, it also includes a wine bottle brush for cleaning dirty wine bottles, cleaning solution to sanitize your wine bottles, a test tube to use when taking readings with the hydrometer, wine bottle stoppers that can be put in by hand and decorative bottle neck covers to give your wine bottles a professional look.
With this homemade wine equipment kit you can easily make wine using any of the wine making ingredient kits listed on our website. Currently we have over 200 different ones to choose from. Each comes with the juice and additional little of packets of ingredients you will need, such as yeast, clarifiers, etc.
———————————————————————————————————
Ed Kraus is a 3rd generation home brewer/winemaker and has been an owner of E. C. Kraus since 1999. He has been helping individuals make better wine and beer for over 25 years.