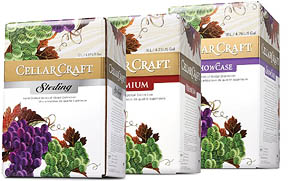 We've got some great news that we can't wait to pass along! The new wine making juices are here! We are very excited to announce that we have added a new brand of a wine making juice to our already extensive selection of wine making juices.
The new brand is Cellar Craft. They have 55 different wine making ingredient kits spread across 4 different lines: Sterling, Premium, Showcase, and Specialty. Some examples of the wine making juices they offer are: White Merlot Washington Reserve, Pinot Grigio Italian Riserva, and Cabernet Red Mountain.
Each of Cellar Craft's 4 different brands offers a different range of wine in terms of price and quality. Long story short, Cellar Craft has something for everyone.
Without question, the new choices Cellar Craft brings to the table, combined with the solid listing we already carry, creates the most diverse and broad selection of wine making kits you will find anywhere. We now offer a staggering 230 wine making ingredient kits from which to choose. So dig in and find out which ones wets your palate!
———-
DON'T KNOW WHICH WINE TO MAKE?
We realize that having so many wine making juices to pick from can be overwhelming. That's why we created the Wine Selector Tool. This makes picking out a wine making ingredient kit you will like, simple.
Just go to the Wine Selector Tool, make some basic selections, and the Wine Selector Tool will narrow down the field of wine juices for you. Give it a whirl and see what you come up with!
———————————————————————————————————
Ed Kraus is a 3rd generation home brewer/winemaker and has been an owner of E. C. Kraus since 1999. He has been helping individuals make better wine and beer for over 25 years.