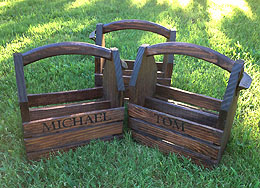 The holiday season is upon us and all you've got to offer is a closet full of homebrew. But don't worry! Beer makes an excellent gift — especially for us beer geeks! With homebrew, you can be pretty sure that your gift won't get tossed in a closet and forgotten about. Plus, it's a gift that someone can enjoy, share with others, and create lasting memories around.
Here are a few tips to consider when gifting your homebrew:
Plan ahead – Most brews take at least four or five weeks from start to finish, sometimes longer for high gravity beers and lagers. Try working backwards from the holiday or special event, calculating the bottle conditioning and fermenting time required to arrive at your "brew by" date. This way your beer will have plenty of time to mature and carbonate before reaching its destination.
Brew something special – Pick something a little more festive than a standard pale ale or lager. Spruce beer, Russian Imperial Stout, Oak Barrel Imperial IPA? Make it something the recipient won't soon forget!
Make some for next year – If brewing something that can age, like a barleywine, set aside some bottles for next year. Imagine the appreciation when gifting homebrew from your "2013 vintage" as they realize you've kept it safe for them for a whole year — and managed not to drink it yourself!
Spruce up the packaging – Consider adding customized bottle caps and labels to give your bottles a personal touch. Brewer's Friend has a make your own label feature.
Go the extra mile – Go deluxe with a custom made wooden 6-pack holder from somewhere like Etsy. You can even get the recipient's name branded on it. Just imagine how proud they'll be to carry their brews around in a personalized holder!
Throw in a little something more – Go the extra mile by including something they can put to good use, like this hand-forged iron bottle opener. Again, get it personalized to make it extra special.
Don't ship USPS. It's illegal! – Hopefully this will change in the future, but until then, stick with a carrier like FedEx or UPS. Pack the beer bottles snugly with peanuts, packing paper, or styrofoam, and wrap each one in a plastic bag, just in case there's breakage in transit. The tubes used for shipping posters work well too. Label the box "collectable bottles" or "yeast samples" to reduce the likelihood of the shipment getting tampered with.
Looking for more holiday gift ideas and inspiration? Consider these Gift Ideas for Homebrewers.
———————————————————————————————————–
David Ackley is a beer writer, brewer, and self-described "craft beer crusader." He holds a General Certificate in Brewing from the Institute of Brewing and Distilling and is founder and editor of the Local Beer Blog.