Buying a personalized wine gift for an avid wine-lover can be a very difficult task. Especially when you know absolutely nothing about wine.
The obvious thing would be to pick out a bottle at your local wine shop, but what are the odds that they'd be thrilled with your selection? You could shop for a fancy cork puller, but how cliche…
How about putting a new angle on an old spin and get them a wine making kit. That's something they would never expect.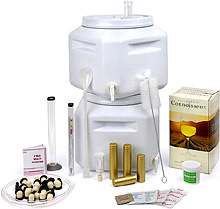 With a home wine making kit they'll get to experience first-hand how grape juice is turned into wine. It's an experience that will definitely expand their knowledge of wine.
We have a wine making kit that keeps things straight-forward and simple. It's called the California Connoisseur wine making kit. It comes with all the equipment and ingredients they will need to make 6 gallons of wine, including a choice of California grown grape juice, such as Cabernet, Chardonnay, etc.
With this wine making kit they'll learn how to make white wine or red wine. The directions are clear and assumes that they know absolutely nothing about how wine is made.
It's fun, and the wine is incredible. We have thousands of repeat customers who buy additional wine making juices. Learn more about the California Connoisseur wine making kit.
———————————————————————————————————
Ed Kraus is a 3rd generation home brewer/winemaker and has been an owner of E. C. Kraus since 1999. He has been helping individuals make better wine and beer for over 25 years.