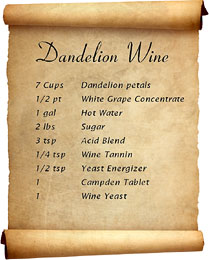 When you're relatively new to home winemaking, following each and every step of a wine recipe is critical,  but where do you even begin finding good wine recipes?  There are a lot of resources out there, and hopefully this post will shed some light on where to find them.
Wine Making Books
There are a large number of wine making books out there that are full of wine recipes.  It is important to note that if you're just looking for a book containing only recipes, you'll want to pay close attention to the description of the book, as a lot of wine books contain other important educational information and fewer recipes than a book dedicated only to wine recipes. One book that is dedicated solely to providing you with great wine recipes is the Winemaker's Recipe Handbook.  This book contains over 100 wine recipes to create nearly any type of wine.  From apricot and beet, to rose hip and grapes, this book has you covered! If you're a beginner and are looking for a book that not only has recipes but also teaches you how to become a successful winemaker, The Art of Winemaking is a great choice.  It uses simple language, has a nice selection of wine recipes, and can act as a quick reference guide whenever you need it.
Wine Making Kits
If you purchased a wine making kit, then you already have some recipes!  Some kits are designed with a particular type of wine in mind, and rather than give you the equipment and ingredients while leaving you high and dry, winemaking kits come equipped with wine recipes to help you in your new winemaking adventure.
Internet Search
You can always find anything on the internet, so a search for "wine recipes" will certainly pull up a few.  Be advised, there is a lot of bad information on the internet, so you'll have to have a critical eye open when perusing these sources. You can find wine recipes on our website on the recipe page. There is also the 7 Easy Steps To Making Wine which are specific step-by-step instructions for making wine with these recipes. They are all dependable recipes that have been used many, many times by winemakers all over the country.
What if you want to tweak the recipes you already have?
If you have a good handle on some recipes and you're getting more comfortable with different ingredients, you may want to experiment with altering those recipes somehow.  You'll want to keep a careful record of what you change, in case you love the results and want to reproduce it or it's terrible and you want to avoid that change in the future.  In this case, you want to get start a log book to keep track of everything you do while making your wines.  Even if you aren't changing your recipes, it's probably a good idea to take notes so you can review hydrometer readings and dates, etc.
———————————————————————————————————
Ed Kraus is a 3rd generation home brewer/winemaker and has been an owner of E. C. Kraus since 1999. He has been helping individuals make better wine and beer for over 25 years.