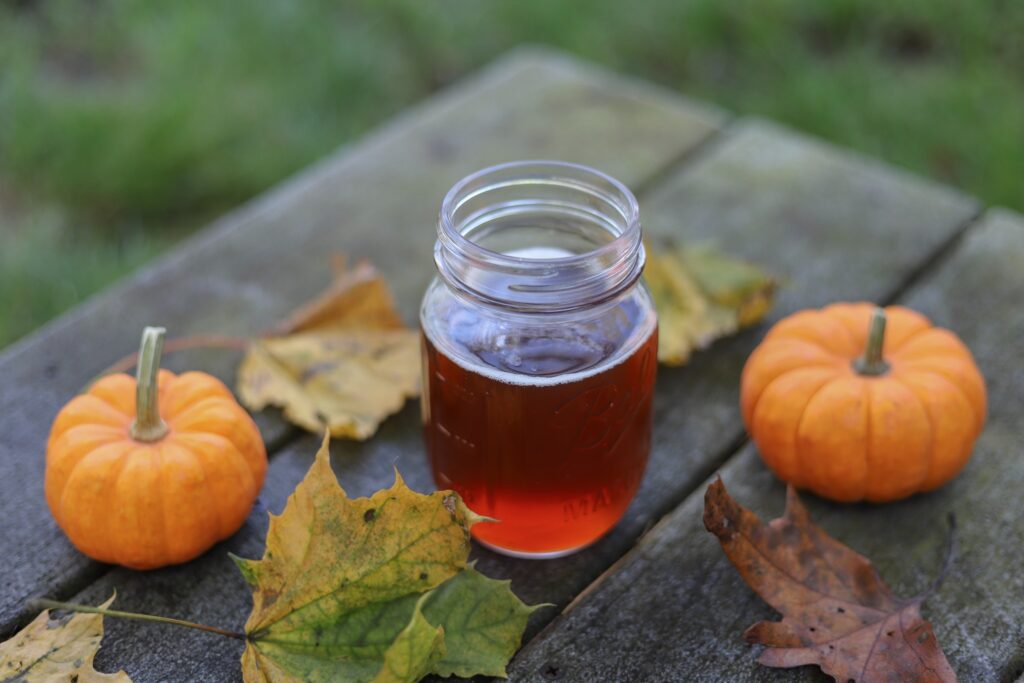 Hello Autumn! 
The season of colorful crunchy leaves, pumpkin patches, apple picking, hayrides and of course fall brews.
Whether you're carving Jack O' Lanterns or watching your favorite scary movie, here's a list of our favorite beers to have this fall.
Oktoberfest Beers
Oktoberfest is the biggest beer festival held each year. And while we can't really do as the German's do this year, we can at least pretend!
We've got 3 great beers to kick off Oktoberfest.
Copper Legend – Jack's Abby
ABV: 5.7%
This beer has a smooth body with a malt that's crisp and sweet. *This pairs well with soft baked pretzels. Yum!
Avery Brewing Company – The Kaiser
ABV: 8%
This beer was a favorite during last year's Oktoberfest. It's low on hop bitterness, and instead carries more of a toasted bready flavor.
Left Hand Brewing Co. – Oktoberfest Marzen Lager
ABV: 6.6%
This beer gives a roasted grain and herbs aroma, and has flavors of spice, caramel and mild hops. By allowing it to age longer, this beer has a rich, full, and bready brew.
Pumpkin Ales
Who doesn't love a perfect pumpkin beer during the cool, crips months?! 
Here's some pumpkin ales that pair perfectly with any fall activity.
Iron Hill – Pumpkin Ale
ABV: 5.5%
Iron Hill's pumpkin ale is a fan favorite! Instead of using flavoring hops, Iron Hill uses pumpkin and vanilla spices to create this brew.
Blue Moon Harvest – Pumpkin Ale
ABV: 5.7%
This popular beer has multiple fall flavors mixed together for a nice smooth taste. These flavors include nutmeg, allspice, cloves, wheat, and of course, pumpkin.
Evolution – Jacques Au Lantern
ABV: 6.3%
The aroma of Jacques Au Lantern consists of fresh pumpkin, lemon grass, bready malt, and fall spices. Its taste has pumpkin, nutmeg, cinnamon, nuts, and toasted malts.  
Amber/Malt Ales
Malty beer with the warm amber color (also known as red ale) fits right into the fall theme. These beers go great with some Halloween candy!
Bear Republic Brewing Co. – Red Rocket Ale
ABV: 6.8%
Red Rocket ale is the perfect color of the brown leaves that fall during this season. It offers a sweet caramel flavor that also includes bitter hops to create an even balance in taste.
Victory Brewing Co. – Festbier
ABV: 5.6%
Festbier has a combination of German and Austrian grains to create a taste of chocolates and nuts, though this brew also has caramel, and a hint of pine.
Alesmith – Evil Dead Red
ABV: 6.66%
If you really want to get into the Halloween theme, this beer is for you. The color of the beer is blood with a ABV of 6.66%. (Spooky!) It has a well balanced taste with citrus hops and caramel hops.
Autumn/Maple Ales
Autumn ales carry the most maple taste out of these 4 categories, making this beer sweeter side. 
Here are our favorites.
Ever Grain Brewing Co. – Whitetail
ABV: 8.6%
This amber colored beer is known as earthy, crispy, and bready. It is lightly carbonated so it gives a refreshing taste.
The Bruery – Autumn Maple
ABV: 10%
To get this bold and spicy Belgian-style ale, The Bruery uses maple syrup, yams, nutmeg, cinnamon, vanilla, allspice, molasses, and a Belgian yeast strain. 
We hope you enjoy these recommendations! 
Make sure to try these beers during all your fall festivities, and let us know which ones you liked most. 
Cheers!