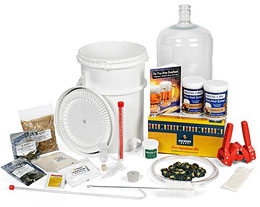 Lots of people love the idea of whipping up a batch of their own homebrew stuff, but think that it takes a great amount of cash and equipment in order to get just one bottle. This is a misconception, and one we're knocking down with our own customers all the time. When you want to make a great-tasting beer, you can brew it yourself – and you don't need a lot of home brewing equipment backing you up.
A very large cooking pot should be all you need in order to hold all of the home brewing ingredients that you'll use during the brewing process. In addition to that you'll need a primary fermenter and a secondary fermenter that are equipped with an air-lock attached in order to keep the integrity of the brew at its highest quality. A bottle capper is also necessary, to ensure that bottles are capped properly, and are air-tight; and a gravity hydrometer, which will let you know when it's time to bottle the beer. You'll also need a large spoon to stir, and a sanitizer to ensure that all equipment is properly cleaned and sterilized before use.
Even these few ingredients can seem overwhelming to someone who is just learning how to brew their own beer, and they can often wonder where exactly they can find them. Luckily, at Adventures in Homebrewing we've got you covered with our own Beermaker's Necessities Box.
This box includes all of the minimum equipment you'll need to start making your own home brew quickly and easily, and without running around for all the different pieces you'll need. This box contains the same quality pieces of equipment you can buy individually, but at a special, reduced price as a kit.
Because we believe that the very best beer is the beer you make yourself, we think it should be practical and accessible for everyone. Order your Beermaker's Necessities Box today, and start sipping your own brew tomorrow!
Want to learn more about what it takes to brew your own beer? Then you might want to take a look at this recent blog post, "The 3 Different Levels Of Brewing Beer At Home". It goes into a little more detail about the home brewing process and what it's all about.
________________________________________________________
Read More About Getting Started And Other Home Brewing Topics,
FREE  EMAIL NEWSLETTER:

________________________________________________________