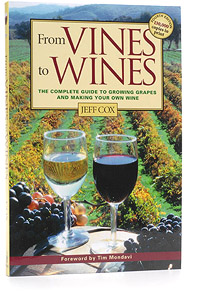 If you need grape juice for wine making one way to solve your problem is to plant your own grape vines. You'll never have to worry about hunting for grapes again and you won't have to travel to far to pick them.
The book, From Vines To Wines will not only help you get it all going, but it will show you how to make wine from these grapes as well. It's kind of a all-in-one, type book.
The first half of the book covers how to select the grape varieties, how to select the optimum planting location on your property, how to cultivate and harvest your grapes and other valuable bits, like trellising and pruning the vines.
The second half of From Vines To Wines is on how to make the wine: how to make white wine, how to make red wine, how to use homemade wine equipment, how to manage the fermentation and how to treat the wine after the fermentation has finished.
It's a book that we've been proud to offer for many years. Jeff Cox is a solid writer and presenter of the wine making hobby. And this book is just one more piece of proof. It has received rave revues and warm accolades from many players in the wine making industry.
The book's forward is written by Tim Mondavi of Robert Mondavi Winery who writes, "From Vines To Wines" helps provide you with the knowledge you need to become a wine grower in the best sense of the word".
———————————————————————————————————
Ed Kraus is a 3rd generation home brewer/winemaker and has been an owner of E. C. Kraus since 1999. He has been helping individuals make better wine and beer for over 25 years.