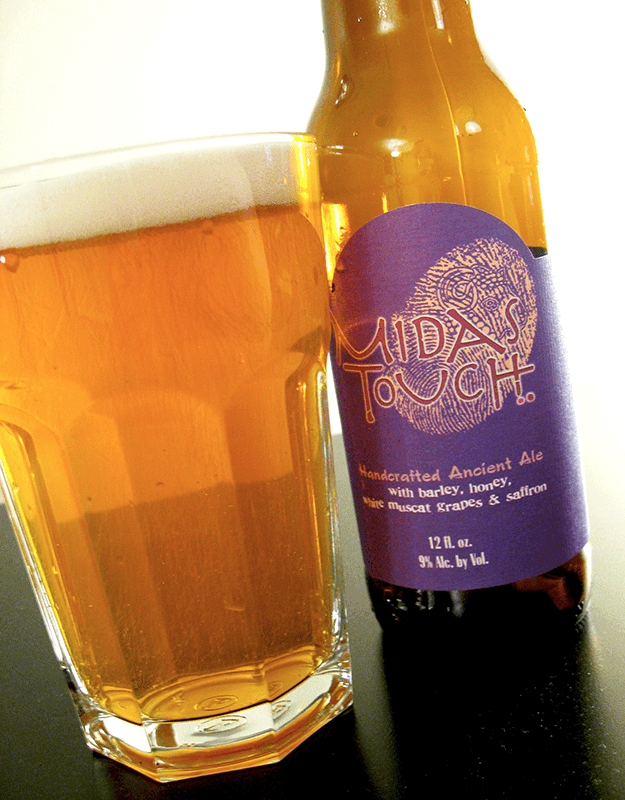 If you haven't figured it out yet, we're talking about Dogfish Head's Midas Touch. First a little back-story on how this beer came into being:
Maybe it's human nature, but for some reason we always seem to have a way of trying to put things into neat little categories. Is it a West Coast IPA or an East Coast IPA? A Belgian ale or a Belgian-style ale? Is it craft beer or crafty beer?
We even try to establish clear definitions of beer itself. What is beer? Is it limited to just water, barley, hops, and yeast, in accordance to the German Reinheitsgebot? Or are other ingredients permitted, like wheat and rice? What about beers with no malt or no hops at all?
This obsession with categorizing beer could be a modern affliction. When we look at ancient recipes, the lines between beer, wine, and mead were often quite blurry.
That's exactly what was discovered when archeologists uncovered the remains of over 150 vessels in what could be the tomb of the fabled King Midas – who actually ruled in Turkey some 2700 years ago. Biomolecular archaeologist Patrick McGovern, who specializes in ancient ales and wines, discovered through rigorous testing of the vessels that the beverage they once contained was actually a combination of beer, wine, and mead. He was able to isolate specific compounds that indicated that barley, grapes, and honey were all likely combined into a single beverage.
Like any good biomolecular archeological zymologist, McGovern set about to recreate this ancient beverage. He solicited the help of a number of craft brewers to develop the recipe, ultimately choosing Sam Calagione's recipe as the best. This beer was eventually released by Dogfish Head as Midas Touch, and has since won a number of awards at major beer competitions.
The staff at Brew Your Own Magazine were generous to share a clone recipe in the November 2002 issue. Enjoy the recipe below for a taste of ancient ale!
Dogfish Head Midas Touch Clone (via BYO Magazine)
(5-gallon batch, extract)

Specs
OG: 1.078
FG: 1.010
IBUs: 10
ABV: 9%
Ingredients
3.3 lbs. Briess light LME
1.5 lbs. Briess light DME
3 lbs. honey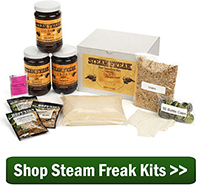 2 lbs. SunCal Chablis grape concentrate
0.5 oz. Willamette hops (5% AA) at :60
1 tsp. Irish moss at :60
0.5 oz. Willamette hops (5% AA) at :15
1/2 teaspoon dry saffron at :15
Wyeast 3787: Trappist High Gravity ale yeast
3/4 cup priming sugar
Directions: At least 24 hours prior to brewing, prepare a yeast starter. On brew day, heat 2.5 gallons of clean, chlorine-free water and mix in the malt extract. Bring to a boil, and add the bittering hops and the Irish moss and boil for one hour. In the last 15 minutes of the boil, at the flavoring hops and the saffron. At the end of the boil, mix in the honey and let stand for 5 minutes. Chill wort and strain into a fermenter with about two gallons of clean, pre-boiled, pre-chilled water. Use a sanitizer stirring spoon to mix in the grape concentrate, then top off to 5.5 gallons. Aerate the wort, pitch yeast, and ferment at 68-70˚F until complete. Bottle or keg and allow the beer to condition for 3-4 weeks.
Do you have a Dogfish Head Midas Touch Clone Beer Recipe? Looking for more Dogfish Head clone recipes? Check out this Dogfish Head 90-Minute IPA Clone!
—–
David Ackley is a writer, brewer, and craft beer marketing consultant. He holds a General Certificate in Brewing from the Institute of Brewing and Distilling and is founder of the Local Beer Blog.