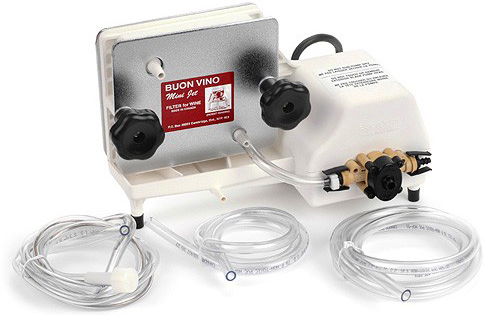 I have been reading your blog for some time. My neighbor makes wine and said I should try it.  I have a question. He uses a wine filter to clear his wine. Do you have to filter homemade wine? He says it is not but I don't see how if you don't have something to clear it.
Eric
—–
Hello Eric,
Let me start off by saying that you can make perfectly clear homemade wine without using a wine filter of any kind. You do not need to filter a homemade wine for it be clear. Let me explain why…
What causes a wine to be cloudy is mostly wine yeast. The yeast multiply themselves into a colony of incredibly huge numbers during the fermentation. This wine yeast is finer than flour and adds a milky look to the fermenting wine must. Even though the wine yeast cells are microscopically tiny and can easily be stirred-up by the fermentation. They will also settle out through gravity once the fermentation activity has stopped. The other stuff like the pulp and tannin from the fruit will fall out even before the yeast.
If you do absolutely nothing, the wine yeast cells will settle out on their own, usually within a matter of days. This is why you do not have to filter the wine. It will become surprisingly clear on its on if given a chance.
If you would like to speed up the process you can use something called a fining agent. A fining agent is something that you add directly to the wine must. It collects the particles together and drags them to the bottom more quickly than they would on their own. A particular fining agent routinely used by many wineries is Bentonite.
You may be asking yourself at this point, "if the wine yeast will settle out on their own and I can use fining agents to speed up the process, then why does my neighbor have a wine filter? And furthermore, why do wine filters even exist"?
Wine filters do have a purpose in wine making,
but it's not to clear up a cloudy wine.
A wine filter is designed to make a clear wine look even clearer. A wine filter should only be used on a wine after it is already visually clear. It filters out wine yeast, even beyond what the human I can see. This level of filtering adds further polish or luster to the wine causing it to illuminate more brilliantly.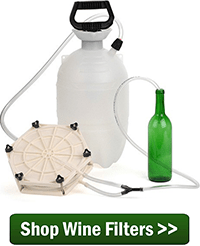 It is important to understand that a wine filter is not something that strains the wine. The wine is actually forced under pressure through extremely fine filter pads. It filters the wine so fine that it can make a white wine look like a solid piece of glass in the wine bottle. With this kind of filtering power, using it on a wine that seems even slightly murky will cause the filter pads to clog up quickly. The wine needs to look absolutely clear to the naked-eye before the use of a wine filter can even be considered.
My suggestion to you is to go ahead and make a batch of wine and don't worry about using a wine filter for now. Most home winemakers do not filter their wines and are absolutely satisfied with the clarity. Once the wine is finished and had time to clear, take a look at it and see if you are happy with its clarity. If not, then you can revisit purchasing a wine filter system to filter that wine.
Just remember that if you do decide that you need to filter your homemade wine, we have several different models of wine filters in stock that can be shipped the same day your order.
Happy Wine Making,
Ed Kraus
—–
Ed Kraus is a 3rd generation home brewer/winemaker and has been an owner of E. C. Kraus since 1999. He has been helping individuals make better wine and beer for over 25 years.