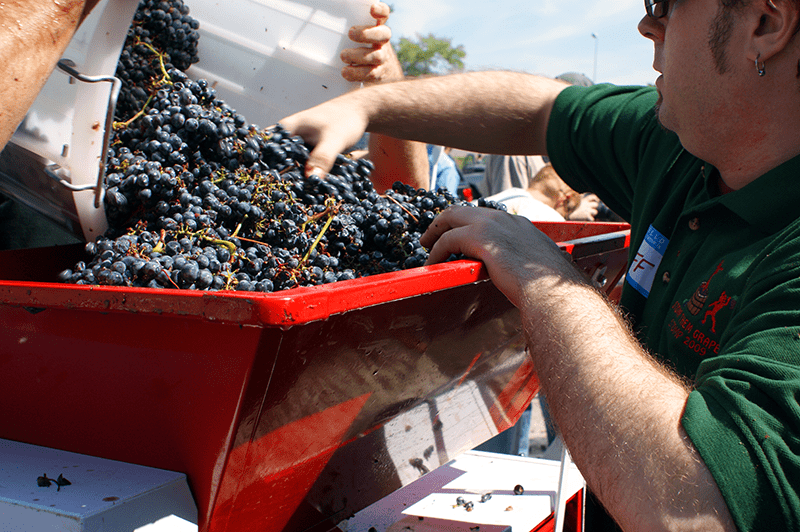 Any of the wine making books you read, will tell you that wine grapes need to be crushed and pressed. The same holds true for the directions that typically come with any wine making recipes, but what does it actually mean to crush and press the wine grapes?
Many beginning winemakers think crushing and pressing to mean the same thing, that the terms are interchangeable, when in fact both mean something very different. To understand just how different you must first know a little bit about the wine making process.
When making wine from grapes it is important to realize that you are not only dealing with the juice from the grapes. You are also dealing with the pulp, the skin, and all the fiber that make up the grape. It is from these organic solids that the grape is able to provide body, color and certain flavor characteristics to the wine. Without them all you have is clear grape juice with very minimal qualities.
This is why when a winery makes a red wine, the skin and pulp are actually in the fermentation along with the grape's juice. Once the fermentation has almost completed, all the fibrous solids of the grapes are then removed.
But how do these grapes become a soupy mix that is fermentable? Then later, how is the skin and pulp removed? This is where crushing and pressing come into practice.
Crushing Wine Grapes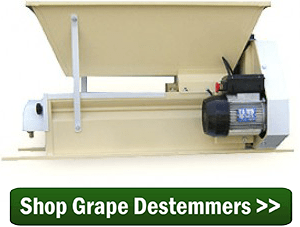 Crushing is what's done before the fermentation. It's what changes the plump grapes from something you pop into your mouth to something you can slop around in a fermenter.
Crushing the grapes is a very straight-forward task. It's simply a matter of bursting the skins so that all the inner solids can be exposed to the fermentation. Enough free-flow juice will release from the grapes to turn the crushed mix into something liquid we call a wine must.
You can crush the grapes by doing something as archaic as throwing the grapes into a bucket and pounding them with the butt end of a 2×4, or you can be as elaborate as processing them through a grape crusher that was designed specifically for the purpose. A grape crusher is typically a hopper that leads to two rollers that are placed closely together. The wine grapes are crushed by going between the two rollers. Both methods do equally well. It's more a matter of how many pounds of wine grapes you are needing to crush and how much work you are willing to do.
Pressing Wine Grapes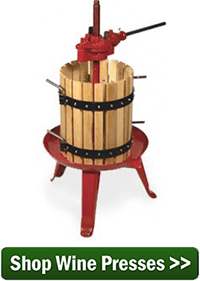 Once the wine must has fermented for around 5 to 7 days it is then time to remove all the solids. This is when you'll see a winery pull out the grape presses and start pressing the wine must. The must is dumped into the pressing basket. Immediately, free-run juice will start flowing from the grape press spout. What's remaining in the basket is then pressed to extract even more juice.
As a home winemaker you do not necessarily need to use a wine press. If you are dealing with a small batch and have only 2 or 3 pounds of pulp, you can press it by hand as best as you can. A fermentation bag can come in handy for this process. Collect the pulp into the bag. Then hang it over a fermenter while you squeeze it. The biggest drawback to this is you will not get nearly as much juice from the pulp as a wine press can.
If you are dealing with a little larger amount, a wine press is almost a necessity. We have affordable grape presses as small as our Table-Top Press. It is ideal when making 10 or 15 gallons of wine.
So, as you can see there is a big difference between crushing and pressing grapes. And, each as an important function in the wine making process.
—————
Ed Kraus is a 3rd generation home brewer/winemaker and has been an owner of E. C. Kraus since 1999. He has been helping individuals make better wine and beer for over 25 years.