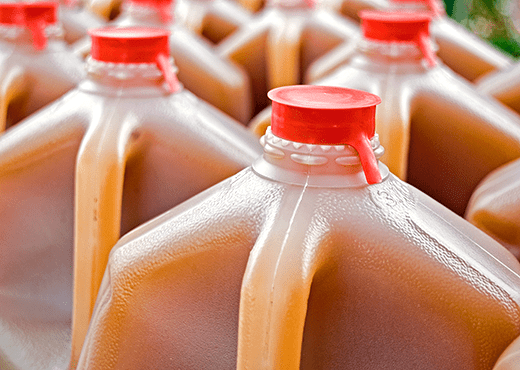 What is the difference between apple wine and apple cider? Is the recipe different? Is the manufacturing procedures different?
Name: Clifton C.
State: Texas
—–
Hello Clif,
Apple wine, apple cider and hard cider are sometimes used to mean the same thing by some people. There is no difference as to how some people use these terms. One person may say apple cider, meaning apple wine; someone else may say apple cider, meaning hard cider. And to make it more convoluted, sometimes apple cider means just plain ole apple juice.
So just what is the difference between apple wine and apple cider? The information below should help to clear this up:
Apple Cider: 
In the United States, it means the same as apple juice. You can go to some markets in parts of the country and see apple juice and apple cider side by side. Some areas of the U.S. will make the distinction that apple juice has gone through filtration and pasteurization whereas apple cider has not. It is straight, raw apple juice.
Hard Cider: 
This is apple juice or apple cider that has been allowed to ferment. The natural sugars in the apple juice ferment to an alcohol level that runs somewhere around 3% to 6%. It is interesting to note that in most English-speaking countries — other than the U.S. — hard cider is just called apple cider. It is assumed that if you have raw apple juice it has probably gone hard. Hard cider is very easy to make and can even be sparkled in beer bottles.
Apple Wine:  
This is a hard apple juice as well, but it is much higher in alcohol. It is essentially apple juice that has gone through the same process as you would making wine. The acidity is adjusted. Nutrients are used. And, it is bottled and aged. But, most significant of all is sugar is added to the fermentation to bring up the final alcohol level of the apple wine. Most are around 10% to 12%. Try making apple wine yourself.
It is also helpful to understand that there is a difference between how apple wine and apple cider keep and age.
Hard cider needs to be consumed more quickly than apple wine. The lower level of alcohol makes it less stable. The use of sulfites and maybe even constant refrigeration will help in this regard, but even at that you will discover that apple cider is a drink that is to be consumed in weeks and months, not years.
Apple wine on the other hand is more stable. It has a higher alcohol content which makes it less susceptible to spoilage and general flavor deterioration. Having said this, you should still use sulfites when making it — just like you would with any other wine you make. And just like most wines, you will find that it will taste a little harsh at bottle time. It needs time to age out its harshness. Typically, an apple wine will be very drinkable at around 3 months of aging and at its best at around 9 months.
So, that's essentially what the difference is between apple wine and apple cider. I hope this clears things up for you and that this was the information you was looking for.
Happy Winemaking,
Ed Kraus
———————————————————————————————————
Ed Kraus is a 3rd generation home brewer/winemaker and has been an owner of E. C. Kraus since 1999. He has been helping individuals make better wine and beer for over 25 years.