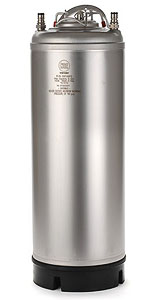 Cornelius kegs, which are sometimes called "corney kegs", are a boon for homebrew lovers. They have a wide array of advantages. The popularity of these kegs has increased simply because they have afforded the home brewer the ability to put their beer on tap. They have a multitude of benefits and here are some of the advantages of Cornelius kegs:
• Forced carbonation is the perhaps the biggest advantage that had made them popular among people owning home breweries. You don't have to wait for bottle conditioning. Just fill the keg and charge with CO2.
• Kegging beer saves you from troubles of routine maintenance that are associated with bottling. No more cleaning, filling and capping beer bottles.
• Corney kegs have a small footprint. This is one of the prime reasons why people love to use them for kegging homebrew. You can typically fit up to 4 in a full size refrigerator.
• High reliability and easy availability of these kegs has made them famous among novice and pros alike. If a seal does eventually wear out, they are very easy and inexpensive to replace.
• Beer bottles tend to break while plastic kegs or king kegs may develop scratches. Glass bottles are fragile, and though they cost much less initially, they cost a lot in the long run. When you calculate the breakage associated with bottles and compare it with the onetime investment that is associated with Corney kegs, the results are just the same. Many people feel that kegs are costly but they ignore the damage that happens because of broken bottles.
• The corney keg makes it easy for you to rack beer and store it efficiently. Hence, it helps in converting your room into a brewery really easily.
Other than these points, kegs are a cool alternative. If you dislike washing beer bottles, kegs are the way to go. These kegs save a lot of space and are easier to handle. Save time and money, and get these kegs for your homebrew. To read more about kegging you homebrew, take a look at "Basic Homebrewing Tips For Kegging Your Beer".
________________________________________________________
Read More About Corney Kegs And Other Homebrewing Topics,
FREE  EMAIL NEWSLETTER:

________________________________________________________