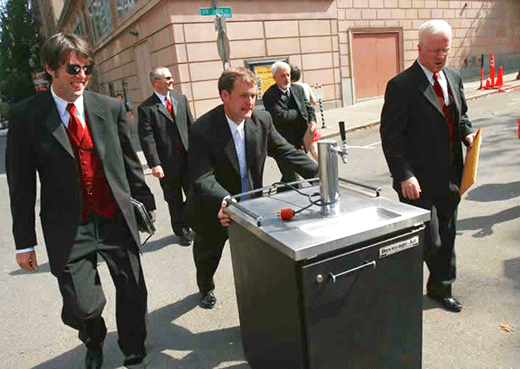 I recently attended a good friend's wedding in northern Virginia. I'd been planning for weeks to bring some homebrew to serve at his bachelor party. In addition to bringing a keg of honey basil saison, I bottled several bottles of the homebrew to give away as gifts. It was a huge success, and the keg was kicked in a matter of hours.
Are you planning on brewing some beer for a wedding? Learn from my experience so you can make it a celebration to remember.
Tips for Sharing Homebrew at Weddings and Bachelor(-ette) Parties
Brew seasonally – You probably don't want to serve an imperial stout at your friend's wedding in August. Consider the weather and climate of the wedding and brew accordingly. Try a saison or Belgian wit in the summer. A pale ale is a good choice year round.
Brew sessionable – Keep your audience in mind. Do you want everyone to get obliterated after a few beers? Maybe you do, but chances are most people want something they can drink over the course of several hours. A brown ale, pale ale, English bitter, Belgian wit and a number of other styles can be brewed at a moderate gravity. Keep it in the ballpark of about 5% ABV at the most.
Brew a test batch – If this is someone you care about, you want the beer to turn out well, right? Plan on brewing a beer recipe you've brewed before, or, if you're working with a new recipe, do a test batch in case you want to make any adjustments. Give yourself plenty of time so you can evaluate the beer before brewing the final batch. Ask for input from friends to make sure the recipe is enjoyable across a range of palates and preferences.
Bring some variety – If time and capacity allows, it might be nice to brew a couple different homebrews for the wedding. Something light and hoppy versus something malt forward with a little more body, for example.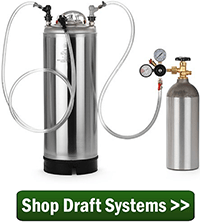 Giving gifts? Make some labels – Even if you're bringing kegged beer to the wedding, consider putting labels on some of the bottles to give as gifts or souvenirs. The batch of saison I bottled and labeled was a huge hit among the family of the bride and groom – everyone wanted a bottle to take home.
Pack all your gear – Make sure you have plenty of CO2. It might be worth getting a refill even if you still have some CO2 left in the tank, just for peace of mind. Also pack your regulator, all of your taps and hoses, back ups if you have them, and any of the gear you might use for cleaning, maintenance, and troubleshooting: wrench, keg lube, o-rings. Bring a little cleanser so you can clean your keg when the wedding reception is over.
Ice – Especially for an outdoor wedding, think about how you're going to keep the beer cold. You could easily stack a keg or two in a chest cooler and pack ice around the kegs. Give the keg at least 30 minutes on ice to chill down before serving. If you have a road trip ahead of you, ice down the keg before you go – you don't want that beer heating up in the car.
Have you ever brewed beer for a wedding or special event? What advice would you add to the list?
—————————————————————————————————————-
David Ackley is a beer writer, brewer, and self-described "craft beer crusader." He holds a General Certificate in Brewing from the Institute of Brewing and Distilling and is founder and editor of the Local Beer Blog.