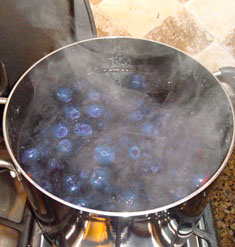 I'm making your Blueberry wine and my question is this. Can I add boiling water to the winemaking ingredients or should I wait for the water to cool first? Thank you
Name: Bill D.
State: Maine
Hello Bill,
The only winemaking ingredients I can think of that should ever touch boiling or hot water are: botanicals and sugar.
Botanicals: Whenever making wines from herb, flowers, roots, it is normal to blanch them with boiling water. This creates kind of a tea of sorts before going on to the process of actually making the wine.
Sugar: When adding sugar to a wine must, it is very helpful to pre-dissolve the sugar in hot water, first. By doing this you can be sure the sugar is dissolved. This also makes it much easier to mix the sugar evenly throughout the must.
In both of these instances it is critical that the mix be allowed to cool down to 80°F. or less before continuing on with adding other winemaking ingredients.
Here are how some common wine ingredients affected by hot or boiling water:
As an additional note, if you are blanching your blueberries with boiling water, I would not recommend this. This will tend to separate the tannins and color out of the fruit. This is not something you want to happen at this stage. The best way to treat the fruit is to lightly crush them or chop them. Once you have all the wine making ingredients mixed together, treat the entire wine must with one of the sulfites mentioned earlier.
Bill, you can find more information about the basic winemaking process on our website. This may help you out, as well.
Happy Winemaking,
Ed Kraus
———————————————————————————————————
Ed Kraus is a 3rd generation home brewer/winemaker and has been an owner of E. C. Kraus since 1999. He has been helping individuals make better wine and beer for over 25 years.