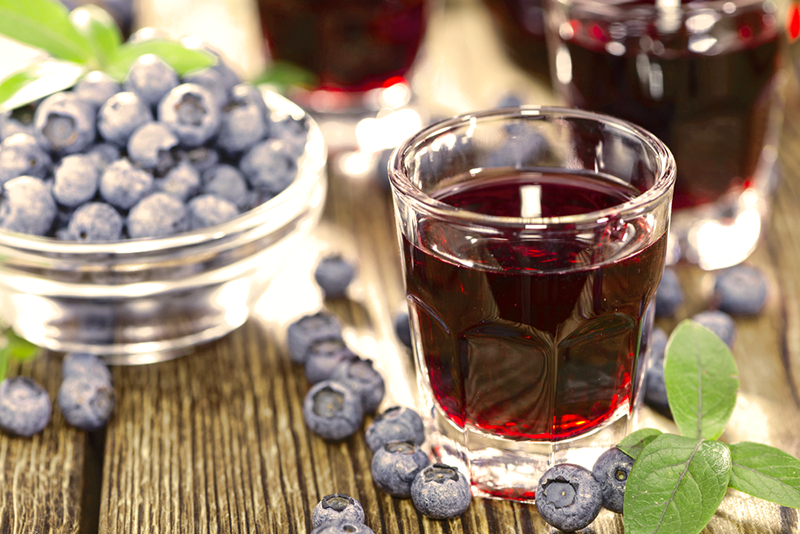 If you've never made wine before, I would submit to you that making a blueberry wine is a perfect place to start.
For one, blueberry wine is any easy wine to make. And, it only requires the most elementary pieces of wine making equipment. Secondly, it makes an INCREDIBLE wine. Blueberries, quite frankly, are well suited to making wine. The flavors come through fruity and bright.
Secondly, it's springtime and blueberry season is just around the corner, so what better time to get your ducks-in-a-row and everything squared-away, so that when they do come in you'll have exactly what you need and know what to do.
The blueberry wine recipe below is very simple to use. All you need are the ingredients listed and to follow the basic wine making directions that's are on our website. The blueberries can be fresh or frozen. Either way will work equally well in the recipe.
To prepare the blueberries all that is required is that the berries be lightly crush. You can do this by hand, or you could use something like a potato masher. You do not want to crush the berries too much, and you definitely do not want to break any seeds. This could unnecessarily add a bitterness to the wine.
Ed's Blueberry Wine Recipe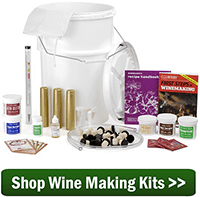 (Makes 5 Gallons)
13 lbs. Blueberries (lightly crushed)
11 lbs. Cane Sugar (table sugar)
1 tbsp. Yeast Energizer
Pectic Enzyme (as directed on its package)
2 tbsp. Acid Blend
Red Star Montrachet Wine Yeast
10 Campden Tablets (5 before to fermentation, 5 before bottling)
One of the fun thing about making your own wine is that you get to make it as sweet or as dry as you like. If you do nothing more than follow the directions, you will end up with a dry blueberry wine. But if you want to make a sweet wine, you can sweeten the blueberry wine to taste just before bottling. Just remember, if doing so, to also add potassium sorbate along with the Campden tablets called for in the blueberry wine recipe.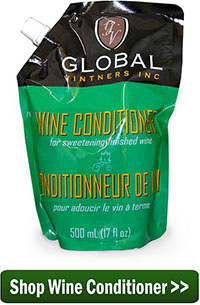 Now, doesn't that sound simple? I imagine the hardest part is keeping your patience in tact. Be sure the fermentation has completed and give it plenty of time to clear up before bottling. Once in the bottle, realize that aging the wine will dramatically improve its quality over the first couple of 3 months. After that drink up.
If you need wine making equipment to make the wine, the "Your Fruit!" wine making kit is taylor-made for making this blueberry wine recipe. Not only does it have the equipment you'll need, but it also has plenty of the basic wine making ingredients for making many different kinds of wine – all at a discounted price.
---