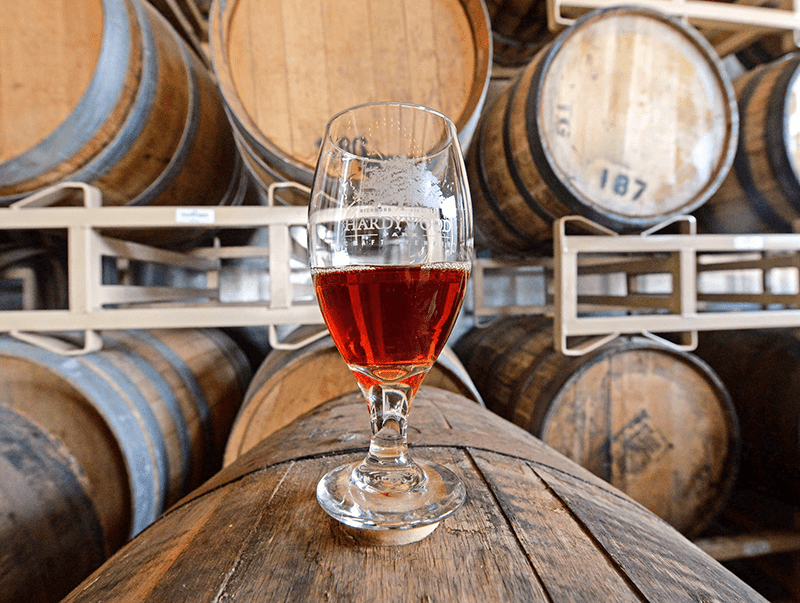 As with wine, beer will often benefit from barrel-aging. Depending on the type of wood used to make the barrel and whether the barrel was previously used or not, barrel-aging homebrew offers an additional realm of complexity, with flavors ranging from oak, vanilla, and toast, not to mention the characteristics of the wine or spirits that previously occupied the barrel.
Though homebrewers can certainly obtain barrels for aging their beer, an easier and more cost effective method is to let the beer age on wood chips. Oak is the wood of choice, and brewers can get French or American white oak, each of which offer a slightly different flavor profile. Additionally, these oak chips may be toasted, which will lend the beer notes of coconut or vanilla. Plain, or non-toasted oak offers more of a "raw" wood flavor. The oak should be sap clear. This is typically done by allowing it to sun-dry for 18 months to 3 years.
So what types of beers work best for oak-aging?
Generally, the best beers for oak-aging are more robust beer styles. Imperial and barleywines are good choices, as the higher gravity lends itself to longer aging. The intensity of the flavor in more robust beers can also more easily stand up to the oak flavor without getting covered up. Some of these stronger styles may be aged for months before developing the appropriate balance. That's not to say I haven't had great oak-aged saisons and IPAs. It can be done, but achieving the right balance is a more delicate operation.
To avoid over-oaking your homebrew, you might try one of two different strategies:
Option 1: Add 1-2 ounces of oak chips to your beer in the secondary fermenter. Taste the beer periodically, every week or so, and rack the beer off the oak chips when the taste is to your liking.
Option 2: Remove 1 gallon of beer by racking it into a 1-gallon glass jug with 2-4 ounces of oak chips. This will result in strongly oaked beer, which can then be blended back into the main batch at the ratio that tastes good to you.
What about mixing in wine or spirits when barrel-aging homebrew?


If you're into craft beer, you've probably come across beer aged in all kinds of different barrels: red wine, white wine, bourbon, tequila, brandy. If you'd like to add the flavor of a wine or spirit to your wood-aged beer, simply soak the oak chips in about a cup of your wine or spirit of choice for a week or more. Then strain out the oak chips and place them in your secondary fermenter. If desired, you can blend in some of the reserved wine or spirit to taste. The best way to do this is to pull out a small sample of beer and then dosing it with small amounts of the wine or spirit. Then you can calculate how much to blend back in to the larger batch. Err on the side of caution – you can always add more, but you can't take it out.
Barrel-aging homebrew – with or without wine and spirits – introduces a new skill set to the brewer's palette: tasting and blending. Barrel-aging may be more of an art than a science, so for best results, taste your beer as it ages on the oak and if needed, blend together multiple oaked and un-oaked batches to get the flavor your want.
Do you barrel-age your homebrew? What are some of your favorite beer styles for barrel-aging?
—–
David Ackley is a writer, brewer, and craft beer marketing consultant. He holds a General Certificate in Brewing from the Institute of Brewing and Distilling and is founder of the Local Beer Blog.