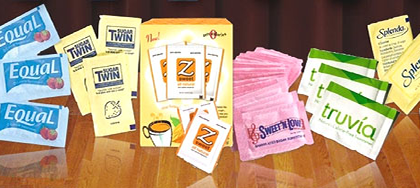 I am a diabetic, but my doctor has suggested 2 glasses of wine a night. Can I use artificial sweeteners to sweeten my wines after the fermentation has stopped? Will it affect the aging after bottling?
Name: Frank
State: TX
—–
Hello Frank,
There is nothing that suggest that artificial sweeteners affect the aging process, or aging-chemistry, of a wine. So from this perspective it is fine to add artificial sweeteners to sweeten wine at bottling time. But there are some other factors that come into play, depending on what kind of artificial sweetener you are planing on using to sweeten your homemade wine.
Not all artificial sweeteners are the same:
Sweet'n Low™: the main ingredient is saccharin. Saccharin will artificially sweeten your wine, but it will not permanently mix with the wine. If given enough time, such as when aging, the saccharin will drop to the bottom. When commercial products, such as Tab used saccharin as a sweetener, they also added a binder to keep it suspended. Us home winemakers do not have this luxury available to us.
Equal™: the main ingredient is aspartame. This artificial sweetener will sweeten wine as well as it will sweeten coffee or tea. It does have an Achille's heel, however it does not stay stable for longer periods of time. Once in a liquid, it will slowly start to lose its sweetening effect. This is why sodas sweetened with aspartame will sometimes taste bitter if they are too old or stored in the heat. While you can store your wine in extremely cool places to slow down the lose of sweetness, this extremely cool temperature will also slow down the natural aging process of the wine. A more minor consideration is that Equal™ also contains a small amount of dextrose (corn sugar) and maltodextrin. Both of these ingredients can cause a very small fermentation with in the wine bottle. Not enough to be a direct problem, but possibly enough the give the wine a detectable amount of effervescence. For this reason, if you do decide to use Equal™ to sweeten your wine, I would also recommend adding potassium sorbate to eliminate any re-fermentation within the wine bottle.
NutraSweet™: again the main ingredient is aspartame so you have the same stability issues as with Equal™, but NutraSweet™ also as a second artificial sweetener, neotame. This artificial sweetener is a little more stable than aspartame, so between the two, NutraSweet™ would be your best artificial sweetener to sweeten wine. It would stay sweeter longer in your wines.
Splenda™: the main ingredient is sucralose. Sucralose is a molecularly modified form of sugar. The sugar is altered in a way that makes it very hard for the body to metabolize. It's main strength is that it is stable. If used in your wine, it will always remain just as sweet as the day you added it. It binds with the wine, so you don't need to worry about it separating out such as with saccharin.The main downfall is that, if given enough time, the enzymes that are left over from your wine's fermentation can break down some of the sucralose into a simple sugar. If there are still residual yeast cells in the wine, you could have a slight fermentation in the wine bottle because of this. Also, like other artificial sweeteners, Splenda™ has dextrose and maltodextrin added as bulking agents to keep if fluffy. Just like with Equal™, these can also contribute to the possibility of fermentation in the bottle, so again potassium sorbate is recommend to keep the wine stable.
Stevia: This is a natural ingredient derived from a plant. There are some winemakers that are claiming great success with sweetening their wine with this product. I do not know how stable it is, but I've heard no complaints with losing sweetness over time, nor have I heard complaints of re-fermentation in the wine bottle. Having said this, price seems to be a major issue. There are many brands that offer this product in varying forms. Some cut with sugar; some cut with maltodextrin. You want to get the stevia as pure as you can — at least 95%. Currently, brands that offer this form of stevia are commanding prices in the range of $0.80 to $1.00 per ounce. Depending on how much stevia you need to use to sweeten your wine, this could be cost prohibitive.
The best advice I can give you is to go ahead and use any artificial sweetener to sweeten wine you like, but don't add it until you are ready to drink the wine. The effects on the wine are identical and you don't have to worry about all the potential problems these artificial sweeteners can bring. If you have your heart set on sweetening the wine at bottling time, then I might consider stevia as a trial. Take a portion of the wine off, say a gallon, and sweeten that to see how you like it.
Thanks for the great question, Frank. Hope everything works out for you.
Happy Winemaking,
Ed Kraus
—–
Ed Kraus is a 3rd generation home brewer/winemaker and has been an owner of E. C. Kraus since 1999. He has been helping individuals make better wine and beer for over 25 years.