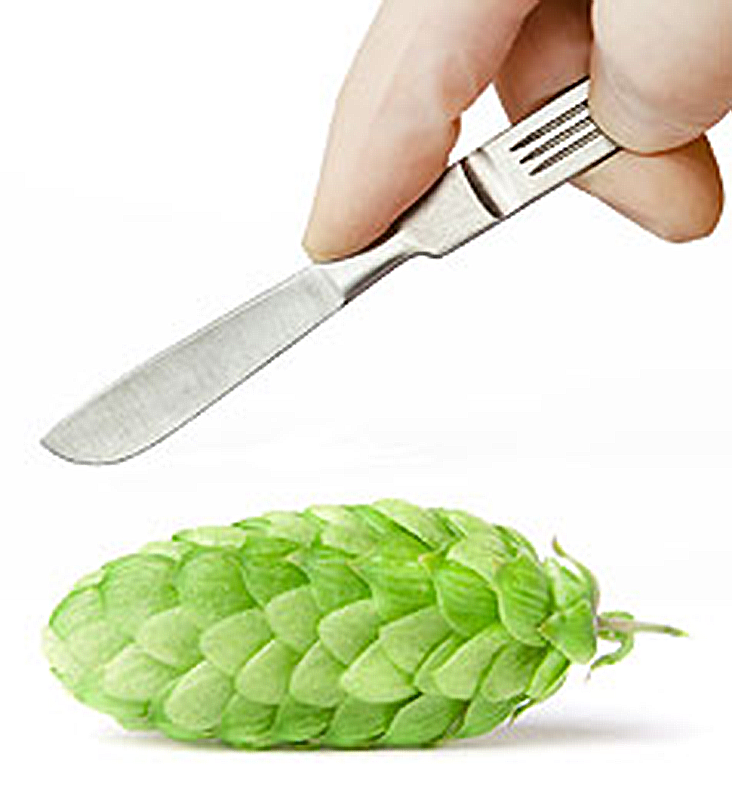 Prized by brewers far and wide for its bittering, flavor, and aroma qualities, the hop is an integral part of beer. But what is a hop? What's inside the hops? What's the anatomy of a hop cone?
Hops come from a perennial plant called Humulus lupulus (lupulus as in wolf, so named for the voraciousness of the plant's growth), which sends vines up from a rhizome in the ground. These vines (a.k.a. bines) have been known to climb to 20 feet or higher in a commercial hop field. Hops, the part of the plant used in brewing, are the flowers of the plant. It is the hop flowers' essential oils and resins that make it so valuable as a beer brewing ingredient.
A hop flower looks like a miniature green pine cone. The resins, commonly referred to as alpha acids, are contained at the base of the hop cone in the lupulin glands. When boiled, these alpha acids are isomerized, a quick shift in molecular structure that makes them soluble in wort.
The alpha acids are what make beer bitter. A simple calculation allows brewers to figure out the IBUs (international bittering units) of their beer and compare their beer to others using a universally accepted scale. The two primary chemicals within the alpha acids are called humulone and cohumulone.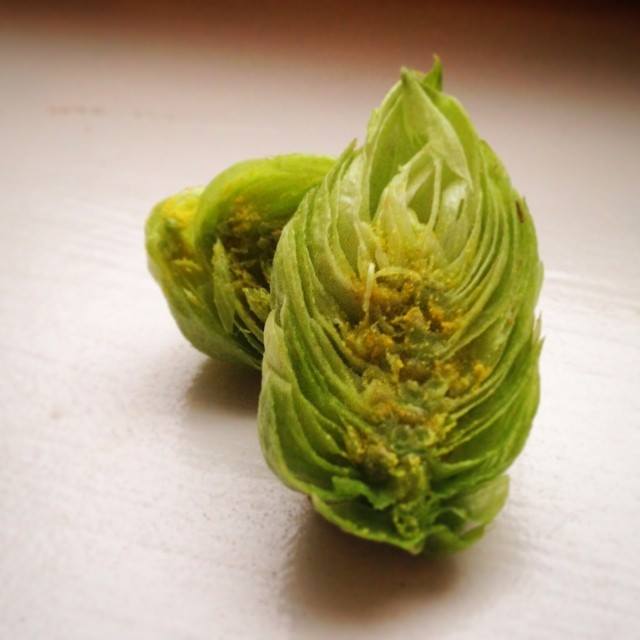 But also within the anatomy of a hop cone are other components that contribute to flavor and aroma. These characteristics are derived from hop oils. Because they're more delicate than the alpha acids, the hop oils will evaporate if they're boiled for too long. For this reason, they're added to the wort late in the boil or afterwards. Commercial brewers may use a hop back, but homebrewers will usually put the hops directly in the secondary fermenter (this practice is called dry hopping).
There are several different types of essential oils within the hop cone, each contributing different flavor and aroma characteristics:
Myrcene – floral, citrus, and piney
Humulene – spicy, herbal, European
Caryophyllene – herbal, European
Farnesene & other oils
(If you're interested, Ray Daniels' book, Designing Great Beers, is a great source for more info on the different hop oils.)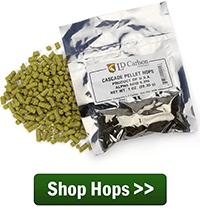 After being harvested from the hop plant, hop cones are usually processed into pellets. Specialized machinery removes the extraneous vegetative material, preserving the resins and oils. The processing results in higher hops utilization (a measure of how many alpha acids are dissolved in the wort) and makes for easier storage. Some brewers, like Sierra Nevada, still use whole hops, but hop pellets have become the industry standard.
When buying hops for home brewing, fresher is always better (unless brewing a lambic, which is made with aged hops). It's best to purchase your hops right before you use them. If you will be using the hops within a few days, store them sealed in a plastic bag in the refrigerator. Otherwise, keep them in the freezer, preferably vacuum-sealed, until you're ready to brew.
This is the basic anatomy of a hop cone and why it is used in beer. Here's where you can find more information about hops: (Nearly) Everything You Need To Know About Hops.
—–
David Ackley is a beer writer, brewer, and self-described "craft beer crusader." He is a graduate of the Oskar Blues Brew School in Brevard, NC and founder of the Local Beer Blog.