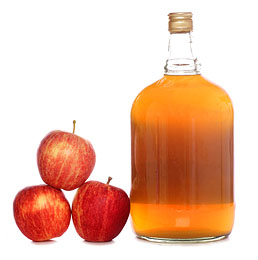 I've read that you have to add a campden tablet to cider 24 hours before you add the yeast…..I've not done this and my cider is now fermenting away. Can I add the correct amount of tablets per gallon once I have strained the sediment off – 2/3 times – 24 hours before I bottle the cider…….am worried that the cider will not be safe to drink!
Name: Fiona
State: Nova Scotia
—–
Hello Fiona,
You didn't add Campden tablets to the cider, and that's okay. Since your fermentation is active, the cider should be fine. The fact that it is active means that the cider yeast has successfully multiplied into a full colony and will be able to protect the cider from the growth of any mold or bacteria that may be in the juice.
The reason Campden tablets are called for in a cider recipe before adding yeast is to destroy any trace amounts of mold spores or bacteria that may be in the juice. Any small amounts can multiply into a full-blown spoilage if the yeast doesn't happen to grow and take over the juice first.
In your case the yeast did take over, so spoilage did not have any chance to take place — no harm, no foul.
I would like to point out that when you do add Campden tablets to cider before a fermentation, it is important that you wait 24 hours before adding the yeast. And, it is important that the cider not be sealed up during the 24 hours. Just cover it with a thin towel. This is because the gas from the Campden tablets need to escape from the cider before you add the yeast, otherwise the Campden tablets can destroy some of the yeast in the cider, as well.
This is not the only time you add Campden tablets to the cider, either. You should add them again after the fermentation has completed (the should be verified with a hydrometer). And, you should also add Campden tablets to the cider, again, right before bottling.
Also, please realize that if you plan to back sweeten the cider, the Campden tablets will not eliminate a chance of a re-fermentation in the bottle. For this you will need to also add potassium sorbate along with the Campden tablets.
Happy Winemaking,
Ed Kraus
———————————————————————————————————–
Ed Kraus is a 3rd generation home brewer/winemaker and has been an owner of E. C. Kraus since 1999. He has been helping individuals make better wine and beer for over 25 years.