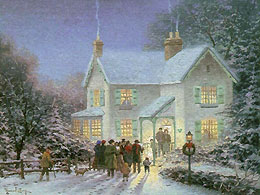 Wassail is a warm alcoholic drink mixed with spices and made with either wine, beer, cider, brandy, or a combination of more than one. It's traditionally enjoyed during the week of Christmas, accompanying carolers as they go from house to house wishing good tidings. There's also a lesser-known forms of wassailing, that of going to the orchards to bless the tress in hopes for a bountiful season.
You may be familiar with the carol "The Wassail Song":
Here we come a-wassailing
Among the leaves so green,
Here we come a-wand'ring
So fair to be seen.
Love and joy come to you,
And to you your wassail, too,
And God bless you, and send you
A Happy New Year,
And God send you a Happy New Year.
The word "wassail" likely predates the Christmastime association. It's derived from the old English "waes hail" – a toast to good health – and is found in literature dating back to the eighth-century.
Whether you're wassailing from house to house, blessing the apple trees, or just spending time with family this holiday, consider making some wassail with your own homebrew. The wassail recipe below calls for sherry or Madeira wine to be combined with brandy. I've adapted it to use a combination of homebrewed beer and wine, leaving the brandy optional if you want that extra punch.
Wassail Recipe (adapted from the Joy of Cooking)
Makes 22 six-ounce servings
Core and bake:
Combine and boil for 5 minutes:
4 cups sugar
1 cup water
1 tbsp. ground nutmeg
2 tsp. ground ginger
1/2 tsp. ground mace
6 whole cloves
6 allspice berries
1 cinnamon stick
Meanwhile, beat in a large bowl until stiff but not dry:
Beat in another large bowl until light in color:
Fold the whites into yolks. Strain the sugar and spice mixture into the eggs, combining thoroughly, but gently. Bring nearly to a boil in a large pot:
6-7 twelve-oz. bottles of homebrewed ale (I would shoot for something malt-forward, like a porter or a Scotch ale)
2 cups of sherry or Madeira wine
up to 2 cups brandy (optional)
Gradually add the beer/wine mixture to the spices and eggs, whisking vigorously with each addition. Add the brandy towards the end. Just before serving, with the mixture foaming, add the baked apples. Serve in warm mugs, placing a piece of baked apple in each one.
If I remember correctly from last Christmas, this wassail recipe certainly does the trick! Do you have a favorite holiday drink tradition?
————————————————————————————————
David Ackley is a beer writer, brewer, and self-described "craft beer crusader." He holds a General Certificate in Brewing from the Institute of Brewing and Distilling and is founder and editor of the Local Beer Blog.