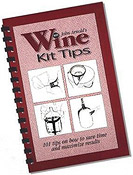 Sometimes learning a new hobby really has more to do with learning all the little ins-and-outs than it does with learning the basics. For example, to get some wine brewing is really quite easy. You just mix all the ingredients together; add the yeast; and let it ferment; and you'll have wine.
There's a lot of activities that are this way, from playing baseball to frosting a cake. The basic are simple, but the details are endless. In baseball who goes for the bunt when the plays at third? When decorating a cake, what's the best decorating tip to use for making rose peddles?
The reason I bring all this up is because we have come across a wine making book that has nothing to do with wine making fundamentals and everything to do with the details. It's called, 101 Wine Kit Tips.
As the title suggests, it's a collection of wine making tips that quite often fills the holes that other wine making books may leave uncovered. Such as tip #82, what to do when your wine is too dry. It's also a journey into practicality. For example, tip #12 show how to use an everyday wire hanger to suspend a funnel over an open, bucket fermenter, and 99 others.
These are wine making tips that will save you time, energy, and a bit of stumbling. It's a great addition to any winemaker's library, and will help to solidify your knowledge of wine making at home. Now you can get 101 Wine Kit Tips at a reduced price of $9.95. It used to be $12.95, making it an even greater value than before.
———————————————————————————————————
Ed Kraus is a 3rd generation home brewer/winemaker and has been an owner of E. C. Kraus since 1999. He has been helping individuals make better wine and beer for over 25 years.