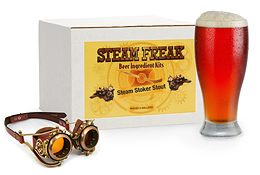 With the holidays coming up, it's time to start thinking about what gifts you'll be giving out this year. To get the ball rolling, here are ten gifts ideas for that special homebrewer in your life.
Don't wait til the last minute! The holidays are right around the corner…
———————————————————————————————————–
David Ackley is a beer writer, brewer, and self-described "craft beer crusader." He holds a General Certificate in Brewing from the Institute of Brewing and Distilling and is founder and editor of the Local Beer Blog.